Polisher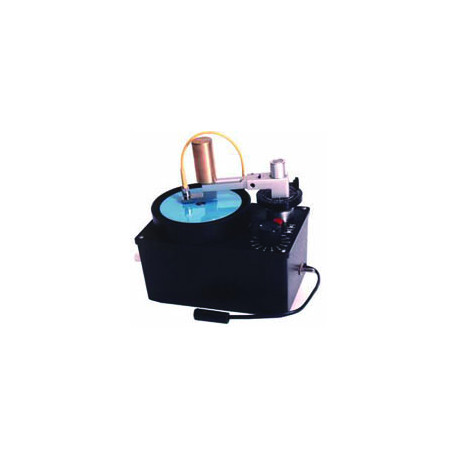  
Reference number: ULT-Minipol-1
Precision polishing machine (desktop unit) for a small product or prototype connector.

Need more info?
Contact our expert.
Fiber Optics Team
Phone: +49 8153 405-11
Description
Precision polishing machine for small productions or prototyping: Minipol 1
For many common connectors there are holders (SC, LC, FC, MU, ST, SMA, 2.5 mm and 1.25 mm ferrules).
Bare-fiber, PC, APC and flat grinding can be achieved by simply changing the plug holder and / or changing the polishing foil.
A factory-set, oscillating guide arm and a rotating polishing foil holder enable the highest polishing quality.
It is also possible to realize bare fiber up to 1.2mm diameter with special polishing angles (angular accuracy 0.1 °).
The ULT-Minipol can also be used for "retro-polishing". The system can be operated with 220 V or with 12V battery.
Basic Features
Delivery contents: 
UT Minipol polishing machine
Hard polishing plate
Polishing plate soft
Power supply country specific
Optional: 
Holder for 1 plug

Surface grinding plug: SMA905, SMA906
PC connector: FC, SC, ST, 2.5mm ferrules, LC, MU, 1.25mm ferrules
APC connector: FC, SC, ST, 2.5mm ferrules, LC, MU, 1.25mm ferrules

Holder for other connectors e.g. E2000 or for POF / PCF on request
Holder for bare fiber (flat or angled, diameter selectable)
Other recommended accessories: 
Dial gauge for determining the protrusion (protrusion gauge)
Crushing and Scriber Tool (Cleave and Scribetools)
 Verbrauchsmaterial: 
Polishing liquid (suspension)
Polishing films
Overview available polishing films:
Material: Alumina 100 pieces per VPE (0,3µ, 0,5µ, 1µ, 3µ, 5µ, 9µ, 12µ, 16µ, 30µ, Ultrafilm B)
Material: silicon carbide 100 pieces per VPE (1µ, 3µ, 5µ, 9µ, 12µ, 16µ, 30µ)
Material: Diamant 15 pieces per VPE (0,1µ, 0,5µ, 1µ, 3µ, 6µ, 9µ, 15µ, 30µ)