Laser welding offers great advantages over conventional welding technologies in terms of welding speed, precision and thermal stress. Recent developments in high-power lasers and handheld laser welders enable use in a wide range of applications, but also confront the user with new challenges in terms of selecting a suitable laser system and the correct equipment for laser protection.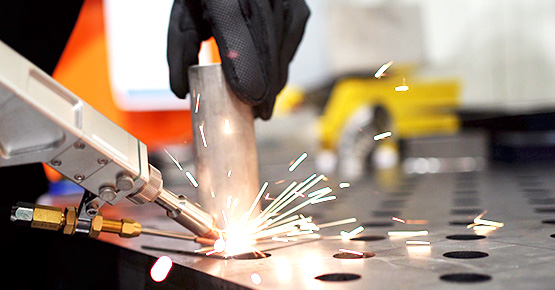 Laser welding has been used for many years in the automotive industry, steel construction, tool making and many other industries. The basis in each case is a high-power laser with optical powers in the kilowatt range. The power, which is precisely focused on the workpiece, results in clean and narrow weld seams with simultaneous high welding speeds and low thermal distortion of the material.
The latest developments in high-power lasers are moving toward shorter laser wavelengths and compact, handheld laser heads. Shorter laser wavelengths allow more efficient input of laser power into the material for non-ferrous metals, such as copper. An important area of application in this context is battery welding. The development of high-power fiber lasers has made possible handheld laser welders in which the laser power is fed via an optical fiber to a compact, handheld welding head.
All laser welding processes must comply with prescribed laser protection measures. While large, enclosed laser welding systems are usually already certified as laser class 1 equipment, all open laser systems for laser welding fall into laser class 4, i.e. extensive laser protection measures must be taken by the operator.
Our experts are here to help you
Related Products