InGaAs Single Photon Counting Module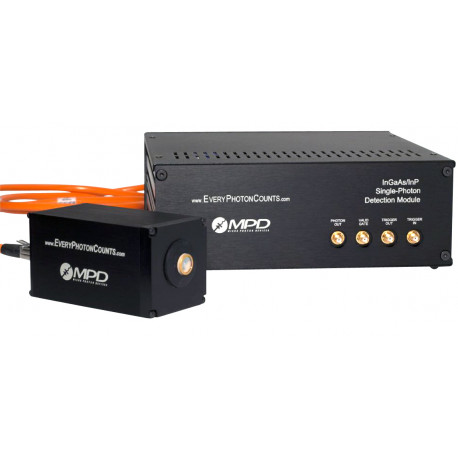  
Reference number: MPD-InGaAs
High-end detection module for NIR-single-photon counting and timing.

Need more info?
Contact our expert.
Optical Test & Measurement Team
Phone: +49 8153 405-11
Description
It is based on an InGaAs/InP SPAD with 25 µm active area diameter (10 µm for fibre-pigtailed version) that allows photon counting from 900 nm to 1.7 µm. The module consists of the detector and the control unit which are integrated in a compact housing. This allows to easily integrate it in any experimental setup.
The electronics surrounding the detector was designed to exploit the good performance of InGaAs/InP SPADs. The module includes a pulse generator for gating the detector, a front-end electronics for avalanche sensing, a fast circuitry for promptly quenching the avalanche current, by acting both at the cathode and at the anode of the detector, and some sub-circuits for signal conditioning.
Thanks to its ease-of-use and great flexibility, all the parameters of the SPAD can be adjusted by the user, in order to optimize the operating conditions according to the measurements to be performed.
MODULE FEATURES:
25µm active sensing area diameter
High Photon Detection Efficiency up to 40% from 900nm to 1550nm 
Free Space and Fiber Pigtailed version available
Available in different Grade depending on Dark Counts specifications
Adjustable PDE and hold-off time
Gate width from 1 ns to 500 ns
Int. or Ext. trigger up to 133 MHz
Parameter
Notes
Min
Typ
Max
Einheit
Active area diameter
Free space
25
µm


FC/PC fibre pigtailed (SMF-28)
10
Photon Detection Efficiency
Vex=2 V; 

λ=1550 nm

10
%
Timing jitter (FWHM)
At Vex=6 V
70
ps
Darkcountrate
Vex=2 V; T=229 K Free space
8
10
kcps
Vex=2 V; T=229 K SM fibre-pigtailed
1
2
kcps
SPAD temperature
SW selectable
225
243
K
Gate risetime
(20-80%)
2
ns
Excess bias range
Free Gate and free running
2
5
V
Fixed Gate
2
7
V
Hold-off time
SW selectable in 10 ns steps
1
3000
µs
Gatewidth
SW selectable in 1 ns steps
1
1.4
ns-ms
Gate repetition frequenzy
100
MHz
Internal trigger frequency
SW selectable in 1 Hz steps
100
100
Hz-MHz
Delay path
SW selectable in 1 ns steps
0
100
ns
Counter integration time
SW gesteuert in 20 ms steps
0,1
60
s
PHOTON OUT, NIM OUT
NIM Output
-800
0
mV
Required load (DC)
50

Ω

PHOTON OUT
Pulse width
10
ns
TRIGGER IN, AUX IN
Amplitude
-2
2,5
V
Load Impedance (DC)
50
Ω
Pulse width
800
ps
TTL OUT
Output levels
0
2,7
V
Required load (DC)
50