O/E Converters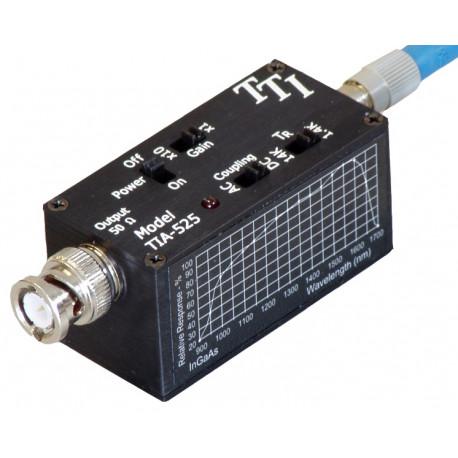  
Reference number: TTI-TIA-X
With the TIA series we offer optical-electrical converters for laboratory and field use.

Need more info?
Contact our expert.
Fiber Optics Team
Phone: +49 8153 405-11
Description
Optical to Electrical Converters
With the TIA-Series we offer a wide variety of O/E converters that are invaluable for the lab and the production line. They range in wavelength from 400 to 1700nm and bandwidths of DC to 20 GHz. The TIA 525 and 527 models may be operated from battery or line power. Please use the chart below as a guide to assist you in model selection.
Features:
400nm to 1700nm wavelengths
Bandwidth to 14 GHz
Compact Size
Universal power supplies
| | | | | | |
| --- | --- | --- | --- | --- | --- |
| Model | Description | Detector | Wavelength | AC/DC Coupling | Conversion Gain @ Peak Wavelength |
| TIA-525I | DC to 125 MHz | InGaAs | 850-1700nm | selectable | 100,000 V/W |
| TIA-525S | DC to 125 MHz | Silicon | 400-1000nm | selectable | 100,000 V/W |
| TIA-527 | DC to 125 MHz | Matched InGaAs | 850-1700nm | selectable | 100,000 V/W |
| TIA-952 | 30KHz-800MHz | InGaAs | 900-1700nm | AC | 2500 V/W |
| TIA-1200 | DC to 14GHz | InGaAs | 900-1700nm | DC | 0.8 V/W |
| TIA-2000 | DC to 20GHz | InGaAs | 900-1700nm | DC | 0.8 V/W |
| TIA-3000 | 30 KHz to 11GHz | InGaAs | 900-1700nm | AC | 500 V/W |
| TIA-4000 | 30 KHz to 7 GHz | InGaAs APD | 950-1650nm | AC | 2500 V/W |