FiberInspector Ultra MPO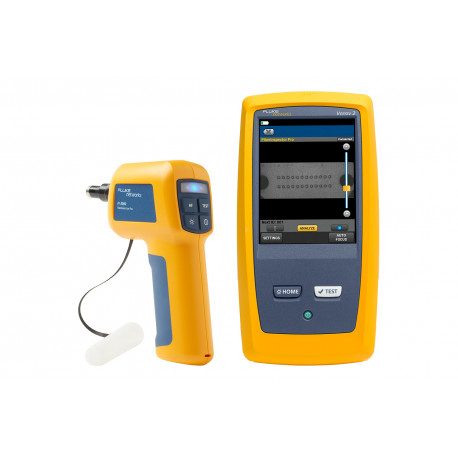  
Reference number: FLK-FI-3000
The FI-3000 FiberInspector™ Ultra is the industry's most complete fiber inspection solution.

Need more info?
Contact our expert.
Fiber Optics Team
Phone: +49 8153 405-11
Description
Overview
The FI-3000 FiberInspector™ Ultra is the industry's most complete fiber optic inspection solution. It is the only inspection camera that supports single fiber or MPO. It offers automated or rapid manual inspection and works with the Versiv™ Cabling Certification System, LinkWare™ or your smartphone. You get an instant view of the fiber end face with the Live View feature. Then the simple gesture-based user interface is used to zoom in on the fiber or optionally perform a split-second automated PASS/FAIL analysis. 
The stable ergonomic design makes it convenient to inspect hundreds of (built-in) couplings and cables. One can choose between two operator interfaces and reporting methods. First, the IOS/Android app allows you to inspect the MPO installation using a cell phone and easily share your inspection results via SMS or social media. Then, the FiberInspector pairs with the Versiv™ cable certification system via the user interface and with the industry-leading LinkWare™ system for documentation.
With Versiv and LinkWare, you can test copper, fiber attenuation, OTDR, and inspection, and combine the results into one complete report.
Product Highlights
Get an overview of the most efficient and comprehensive inspection solution available
Complete visibility of end faces with live view from complete trunk to individual end face
Integrates with Versiv™ Cabling Certification System and LinkWare™ reporting software for easy operation and documentation or with smartphone for testing and routing
Optional automated pass/fail results within seconds
Multiple camera with autofocus/autocentering for real-time imaging
Rugged, ergonomic design with comfortable holster
Supports one or two rows of 8,12,16 or single UPC or APC connectors.
Supports inspection of single fibers (LC, SC, E2K, etc.) through an included adapter 
The FiberInspector™ Ultra is available in two models:
The FI-3000 FiberInspector™ Ultra works with the Versiv™ Cabling Certification System as well as mobile smartdevices.
The FI2-7300 FiberInspector™ Ultra kit includes the FI-3000 camera and a Versiv 2 mainframe.