2 MP Fixed Focal Length Lenses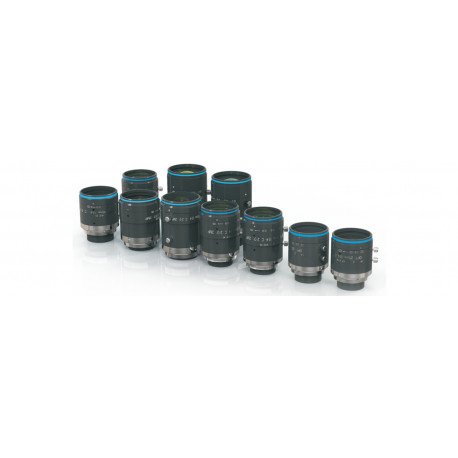  
Reference number: OPT-2MP-FF

Need more info?
Contact our expert.
Machine Vision Team
Phone: +49 8153 405-11
Description
Product Features:

Professional grade design, stable quality, and optical performance

High resolution optical design, compatible with mainstream 2 MP industrial cameras, suitable for a pixel sizes of 5.5 µm and above, and 2 MP cameras with sensor size of 2/3''.

The highest resolution is 1000 lp / mm to get image sharpness.

High uniformity: Use wide-angle lens to control the attenuation of the edge light and get a whole, bright, sharp image

Broad spectrum: Wide spectrum, high pass, 400 – 1000 nm, compatible with VIS and NIR bands.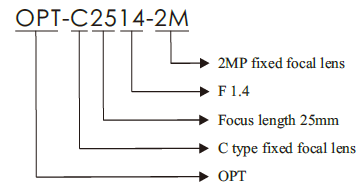 | | | | | | |
| --- | --- | --- | --- | --- | --- |
| Part number | Focal length [mm] | Aperture range | WD [mm] | Distortion | Matching chip |
| OPT-C0420-2M | 4 | 2.0 ~ 16 | 100 - ∞ | < 1.6 % | 1/3'', 1/2.5'', 1/2'' |
| OPT-C0620-2M | 6 | 2.0 ~ 16 | 100 - ∞ | < 1.2 % | 1/3'', 1/2.5'', 1/2'' |
| OPT-C0814-2M | 8 | 1.4 ~ 16 | 100 - ∞ | < 0.8 % | 1/3'', 1/2.5'', 1/1.8'', 2/3'' |
| OPT-C01214-2M | 12 | 1.4 ~ 16 | 100 - ∞ | < 0.9 % | 1/3'', 1/2.5'', 1/1.8'', 2/3'' |
| OPT-C1614-2M | 16 | 1.4 ~ 16 | 100 - ∞ | < 0.8 % | 1/3'', 1/2.5'', 1/1.8'', 2/3'' |
| OPT-C2514-2M | 25 | 1.4 ~ 16 | 180 - ∞ | < 0.45 % | 1/3'', 1/2.5'', 1/1.8'', 2/3'' |
| OPT-C3516-2M | 35 | 1.6 ~ 16 | 250 - ∞ | < 0.25 % | 1/3'', 1/2.5'', 1/1.8'', 2/3'' |
| OPT-C5024-2M | 50 | 2.4 ~ 22 | 500 - ∞ | < 0.1 % | 1/3'', 1/2.5'', 1/1.8'', 2/3'' |
| OPT-C7528-2M | 75 | 2.8 ~ 32 | 700 - ∞ | < 0.02 % | 1/3'', 1/2.5'', 1/1.8'', 2/3'' |
| OPT-C10028-2M | 100 | 2.8 ~ 32 | 2700 - ∞ | < 0.05 % | 1/3'', 1/2.5'', 1/1.8'', 2/3'' |