Deep UV Raman Spectrometer MiniPL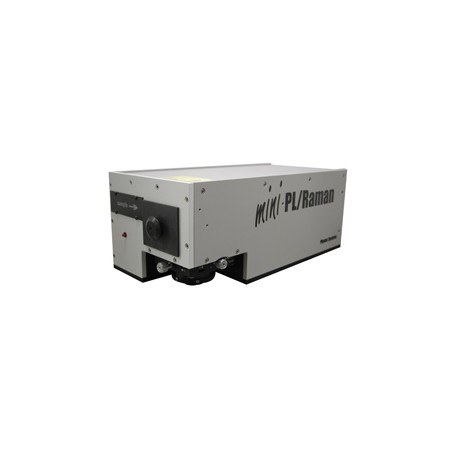  
Reference number: PSY-MiniPL

Need more info?
Contact our expert.
Optical Test & Measurement Team
Phone: +49 8153 405-11
Description
Wide Bandgap MiniPL/Raman Spectrometer: Fully integrated with excitation energy up to 5.5 eV
Measurement of photoluminescence (PL) spectra from semiconductor materials is an important characterization method and is widely accepted for providing information on carrier doping levels, alloy composition, bandgap and edge effects, etc.
The ability to measure UV Resonance Raman spectra adds specificity and enhanced characterization of materials. These measurements are important both for research, device characterization and process monitoring.
The Deep UV (DUV) MiniPL/Raman Spectrometer from Photon Systems provides the most compact and inexpensive instrument available at these wavelengths. Enabling PL and Raman spectra measurement of semiconductor materials with bandgap up to about 5.5 eV corresponding to AlGaN with Al concentrations up over 80%. 
PL: Ex=5.5(224.3nm) or 5.0 eV(248.6nm)
Raman: Ex=5.0 eV (248.6 nm) only
Highly portable 15 x 18 x 36cm, <8kg
High Resolution down to 0.2nm (multi slits included: 125 μm to 2.4 mm).
Computer controlled selection and calibration of two (2) gratings selected from following:
600g/mm optional grating (400nm blaze and 200-850nm spectral range)
1200g/mm grating standard (240nm blaze and 190-650nm spectral range)
3600g/mm optional grating for High Res PL or Raman (240nm blaze and 190-500nm spectral range)
Digital PMT controller with gated box car Integrator & Averager for low noise digital PMT output measurement
Automatic PL/Raman signal gain control with over seven (7) decades of dynamic range
< 40Watts (90-240VAC or 24 VDC) input
Fully integrated, self contained, system
LabView interface and control of laser, spectrograph, PMT, spectral data
Spectral display in nm or wavenumber
Analysis software included, FWHM, Peak, Side lobe identification, spectral subtract, normalize etc.
Up to 50 mm diameter sample size
Laser spot size: 35μm, 70μm with cryostage
X-Y-Z stage manual sample control 50x50x10m standard
50x50mm X-Y motorized, 10mm Z manual stage including mapping software optional.
Helium and liquid nitrogen cryostage options available.
Control: external laptop or tablet computer via USB
Safety: Class I, DHHS/CDRH, CE, RoHS