05/27/2021 | Esmat Jawad - You Expert for Optics & Optomechanics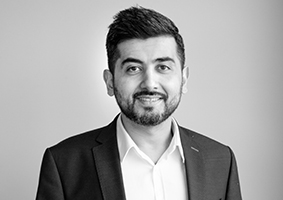 Since the end of last year, Esmat Jawad has been another contact for our extensive range of components in optics and optomechanics.

He completed his masters degree in photonics at Munich University of Applied Sciences and has already developed a patented mini fluorometer with GRIN optics in collaboration with the Fraunhofer EMFT. Thanks to his experience from various research projects with a focus on the simulation and design of optical systems and his previous development positions, he can now provide you with the best advice as a sales engineer.

To take his mind off things or to relax, Esmat likes to go out into nature, you can meet him climbing mountains or even on the soccer field. He also likes to simplify his life with gadgets he has developed.

We are very happy to welcome Esmat as another expert in our team.