01/21/2019 | Laser 2000 with new CEO Dr. Katrin Kobe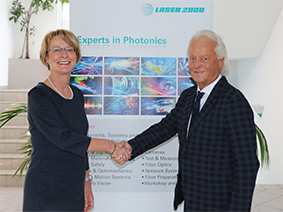 Armin Luft, founder of Laser 2000, retires after 33 years from the management. Therefore, the company welcomes a new CEO. With Dr. Katrin Kobe, the distribution specialist has gained an expert in the field of photonics who will not only lead Laser 2000 into the future but will also excellently support the company on a technical level.

The doctor of laser physics is a specialist in the development and implementation of marketable product strategies, attractive business models and suitable sales structures especially for technologically sophisticated products.
Dr. Kobe is looking forward to the new challenge: "Photonics is the technology of the future and thus, a promising market that we want to shape together with our partners. Now, I am pleased to share my long-time experience with Laser 2000 in order to further expand our top position. "

Armin Luft founded Laser 2000 in 1986 and has been leading it to success ever since. He will continue to help the photonics specialist with his know-how in the future.