Industrial Image Processing
The high-end products and systems of image processing comprise the three disciplines of illumination, observation and evaluation. Without good illumination, the appropriate optics and camera, a perfect image is not possible. Laser 2000 offers a wide selection of lasers, LED illumination, lenses, cameras and software to find the right component or even a complete image processing system to solve your task.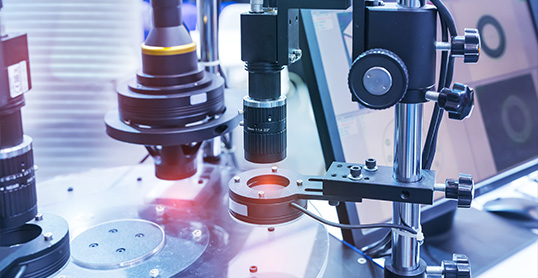 Laser
In industrial image processing, special demands are placed on laser modules. Mainly line lasers with homogeneous power distribution are used in this technology. These lasers are required for the fast generation and measurement of contours, geometries and structures according to the principle of light sectioning. They are used for the detection and measurement of defects, diameters, edges, gaps, steps, alignment and positioning as well as presence control. For all these applications, we offer you the right laser and will be happy to advise you on the possible applications ... 
Lighting
Illumination is one of the most important components in image processing. It has a significant influence on the image quality. The task of illumination is to highlight the relevant features so that they appear in the image with the highest possible contrast. Information lost during image capture cannot be recovered. Careful selection saves complex image pre-processing and thus computing power, time and money.   
Software
Image processing software is used to create an inspection program to determine the parameters sought for the test object: From a presence check to the determination of a dimension or the color of a workpiece to the quality control of the surface or another property of the object. Whether in 2D or 3D, with the products we offer, there are no limits. 
Cameras
Our product range includes industrial cameras and intelligent cameras as well as embedded solutions. But also special solutions like hyperspectral and infrared cameras, up to ultra high speed cameras. For special requirements we help to develop individual single components or even complete cameras. The application areas of our products are versatile. In manufacturing, they enable seamless quality control. In the non-manufacturing industry, the cameras are used, for example, in traffic monitoring, microscopy and medicine.
As members of international associations and standardization bodies, our suppliers actively shape the image processing market and thus guarantee the long-term availability of our solutions. 
Back to the Application Machine Vision
Related Products
Our experts are here to help you