Remote Sensing
Remote sensing is the process of detecting and monitoring the physical characteristics of an area by measuring its reflected and emitted radiation at a distance (typically from satellite or aircraft). Together with hyperspectral cameras, it offers a simple way to observe for example a field from afar that has changed due to disease, pollution, or hydrometry.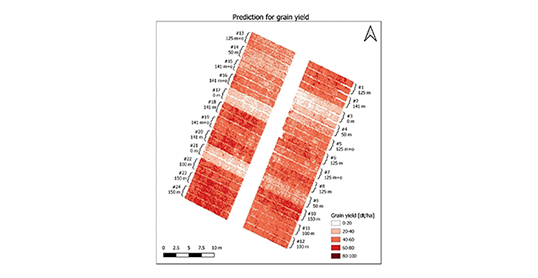 A hyperspectral imaging is a more advanced technique capable of acquiring a detailed spectral response of the characteristics of the target.  
A Hyperspectral remote sensing system is composed by at least the following sub-systems: a system to move the camera over the aera to be analyzed (a drone, a balloon, an aircraft….), a GPS to know the exact position of the system while scanning, and of course an optical system based on a hyperspectral camera.
The most well-known remote sensing solution is a satellite. However, using a weather balloon or a drone will give more accurate information as the optical resolution is more often better. In recent years, various low-cost, mini-size airborne hyperspectral sensors have been developed.
Remote sensing is a useful tool for monitoring crop changes and supporting precision farming practices. 
Hyperspectral imaging is more and more widely available for agricultural applications. It is a simple way to observe from a weather balloon over the ocean or to control crops via a drone, to observe a pollution, or to detect / recognize / identify (DRI) a contaminant. 
Laser 2000 proposes embedded solutions for drones and can design customs solutions (optical/electronics/software) to assist you in the making of a prototype.
Back to the Application Hyperspectral Imaging
Related Products
Our experts are here to help you