Fast Tunable Light Source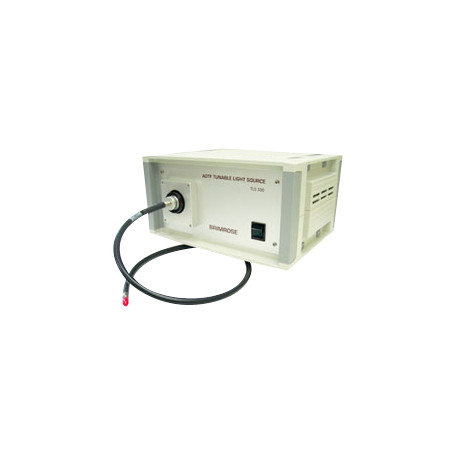  
Reference number: BRI-TLS200
Fast Tunable Light Source based on AOTF Technology

Need more info?
Contact our expert.
Laser & Light Sources Team
Phone: +49 8153 405-11
Description
Fast Tunable Light Source based on AOTF Technology
The TLS200 is a newly developed state-of-the-art product by Brimrose which consists of white light source (Brimrose or customer provided), AOTF device, beam forming optics and AOTF driver. It is designed for time-resolvable microscopy applications if the customer would like to switch wavelengths within 20µs or pump multifrequency RF power to the AOTF to get multi-lines simultaneously. The AOTF driver is computer controlled using a Windows based software.

Brimrose offers several versions of the mechanical design in order to interface with different microscopes such as: Zeiss Axioskop 6, Axioplan, Axiotron, and Nikon Diaphot 200/300. TLS-200 can also be available for other microscopes.

Advantages of the TLS 200 include High Speed Microsecond Switching, Solid-State, No Moving Parts, Fiber Coupled and Compact Size. The TLS 200 is great for Fluorescence Spectroscopy. Also Normal, Fluorescence and Raman Time-Resloved Spectral Imaging in the Biomedical Industry. Quality and Process Control in the Microelectronics Sector. We offer Laboratory and OEM Solutions.

Applications
Fluorescence Spectroscopy
Normal, Fluorescence, and Raman Time-Resolved
Spectral Imaging in Biomedical Industry
Quality and Process Control in Microelectronic Industry
Laboratory and OEM Applications
Features
AOTF Solid-State Switching, NO MECHANICAL FILTER WHEEL
Up to 20µsec switching speeds
Rapid Continuous or Individual Wavelength Hopping
Wavelength Range covered 450-1700 nm (three versions)
Adjustable Electronic Neutral Density Filter for each Wavelength
Simultaneous Multi-Wavelength Switching also Available
Specifications
Wavelength Ranges: 450-700nm, 600-1000nm, 900-1700nm
Spectral Resolutions: 2-5nm, 10nm, 5-20nm
Light Source: 35 Watt Pre-Aligned Tungsten Lamp
Optical Output: Fiber Light Guide ø 1/4 Inch (Brimrose provided)
Output Optical Power: > 0.1mW @ 800nm
Internal Driver Electronics Options:
SPS model: scanning 15msec fmin to fmax or hopping 15msec.
SPF model: scanning 20 µsec fmin to fmax or hopping 1msec
Standard PC Interface: RS232 modular cable with DB9 connector via serial port
Computer Requirements: Pentium Type Computer (> 500MHz) with Win 98SE/2000/XP
Software: Windows based control software
Power Requirements: 90-240 VAC 50/60 Hz
Weight: 7.6 Kg/16.7 lbs
Dimensions: W x H x D: 330mm x 180mm x 330mm
Options: USB computer interface available
For more details please see the datasheet in the download section on the right hand side.