Multispectral GEVXD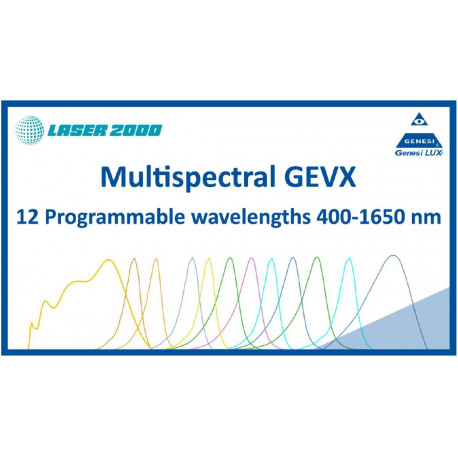  
Reference number: GEE-GEVXD
Multispectrale LED

Need more info?
Contact our expert.
Machine Vision Team
Phone: +49 8153 405-11
Description
MULTISPECTRAL LED BAR

Useful in all prototypes or machinery where it is necessary to understand which is the most suitable lighting for a specific object with a single illuminator.
Useful in all production machines that analyze different products on a single line, as with a single illuminator it is possible to have up to 12 different wavelengths.
Useful in analysis laboratories where it is necessary to highlight material samples using particular wavelengths.

GEVXD LINEAR LIGHT SWIR

Illuminators for linear or matrix cameras with SWIR wavelength from 980 to 1650 nm.
From 1 to 4 independent power LED channels in a single lamp Length from 20 to 600 cm, Standard model IP54, Custom model IP65.



| | | | | | | | |
| --- | --- | --- | --- | --- | --- | --- | --- |
| | Profile Length [cm] | Boards N. | Wavelength [nm] | Standard current supply @ 24 V [A] | Power consumption [W] | Number of LEDs | Range |
| GEVXD28-MS-400-1650 | 28 | 1 | 400 - 1650 | 2.0  | 50 W | 12 x 6 | VIS + NIR + SWIR |
| GEVXD108-MS-400-1650 | 108 | 4 | 400 - 1650 | 8.0  | 200 W | 12 x 24 | VIS + NIR + SWIR |
| GEVXD214-MS-400-1650 | 180 | 8 | 400 - 1650 | 16.0  | 380 W | 12 x 48 | VIS + NIR + SWIR |
| GEVXD28-MS-365-980 | 28 | 1 | 365 - 980 | 1.5  | 35 W | 12 x 6 | UVA + VIS + NIR |
| GEVXD55-MS-365-980 | 55 | 2 | 365 - 980 | 3.0  | 70 W | 12 x 12 | UVA + VIS + NIR |
| GEVXD161-MS-365-980 | 161  | 6 | 365 - 980 | 12.0  | 280 W | 12 x 36 | UVA + VIS + NIR |