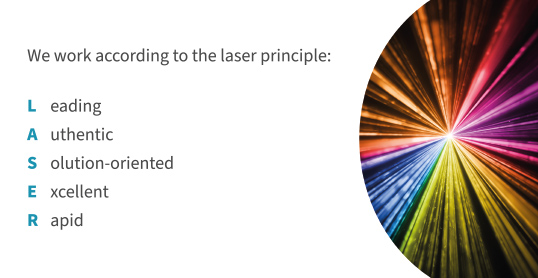 Quality is based on a company's actions, which in turn are built on values that a company embodies. These values are the essence of our philosophy, which Laser 2000 and its employees live - both towards customers and partners as well as among each other in the team.
Associated
An important pillar of our success is our interest: interest in the concerns of our customers, interest in the innovations of our partners and the development in the industry as well as interest in working out solution-oriented approaches in a team from which everyone benefits. In doing so, we maintain a family-like approach, work together for and with our customers and partners, and thus establish a bond between all parties involved.  
Innovative
Innovation is the be-all and end-all when it comes to advising our customers, because we don't just sell a product, we provide support throughout the entire project and develop holistic solutions. In order to do this, we use the company's many years of experience, the individual expertise of all our sales engineers and the know-how of our partners to design creative concepts. In addition, thanks to international cooperations and the collaboration with research and development, we already know today what will be possible tomorrow. In this way, we not only give access to complex technology and facilitate the project process, but also ensure a trend-setting, future-oriented result. 
Responsible
Responsible action forms the basis for trusting cooperation at every level. To achieve this, we focus everything on transparent communication, which means that our assumptions are based on correct and reliable facts. This in turn provides the foundation for economical and efficient implementation. In this way, we guarantee sustainability, as our approach enables us to bring together the needs of all economically, ecologically and socially. This creates long-term, fruitful business relationships.
WE ENABLE OUR PARTNERS TO APPLY PHOTONICS TO THE INDUSTRY AND RESEARCH OF TOMORROW.
To achieve that, we focus on innovation, top quality, and, above all, on encouraging the knowledge, creativity, and enthusiasm of our employees. We offer a tailored consulting and product portfolio for optical technologies - in all industries and application areas.Our goal is to achieve the highest level of customer satisfaction and further expand our leading position on the European photonics market in the "century of photons."
We navigate through the developments in technology and the market together on the ideal path.

In developing the best solution, we integrate the views of our customers, suppliers and colleagues.

It is our aim to continuously expand our knowledge and to apply this for our mutual benefit.

To achieve the most fruitful result for all parties involved, we try out unusual ways or solutions.

For long-term relations, we bring together joint needs economically, ecologically and socially.