THz-Camera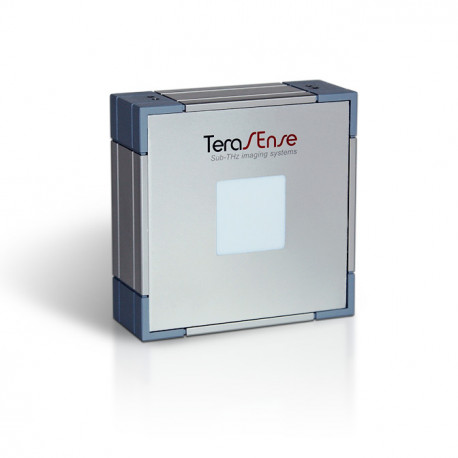  
Reference number: TER-THz-Camera
The THz-Camera is a flexible Terahertz imaging solution for science and industry.

Need more info?
Contact our expert.
Optical Test & Measurement Team

Description
Terahertz imaging cameras
- New physical principle employed
- Operates at frequencies (0.05 – 0.7 THz), where most common materials are transparent
256, 1024, 4096 pixels models are available - to accomodate any budget
-    USB feeding and programming
-    1.5 year warranty
The detectors are fabricated from GaAs high-mobility heterostructure in the standard semiconductor cycle using conventional optical lithography. The imaging sensor is manufactured on a single wafer. That process ensures high homogeneity and reproducibility of the plasmonic detector parameters (pixel-to-pixel deviation responsivity is within 20-percent range). Each unit detector proved to have room-temperature responsivity up to 50 kV/W with read-out circuitry and noise equivalent power 1 nW/(Hz)1/2 in the frequency range 10 GHz - 1 THz. The detection mechanism is based on transformation of incident THz radiation into two-dimensional electron system (2DES) plasma oscillation. Plasma wave is then rectified on the inhomogeneity of 2DES electron density in the defect region.
Tera-256
256 pixels (16 x 16 array)

1.5 x 1.5 mm pixel size

50 kV/W responsivity with NEP=1 nW/(Hz)1/2

10 cm x 10 cm x 5.5 cm device size
Tera-1024
1024 pixels (32 x 32 array)

1.5 x 1.5 mm pixel size

50 kV/W responsivity with NEP=1 nW/(Hz)1/2

10 cm x 10 cm x 5.5 cm device size
Tera-4096
4096 pixels (64 x 64 array)

1.5 x 1.5 mm pixel size

50 kV/W responsivity with NEP=1 nW/(Hz)1/2

20 cm x 20 cm x 10 cm device size
TeraFast-256
 (High Speed THz Line Scanner)
Image acquisition rate: 5000 fps (5 KHz)

Scanning speed: up to 15 m/sec (900 m/min)

Min detectable power/pixel: 100 nW (at 5000 fps)

256 pixels (256 x 1 array) - scalable in size

3 x 1.5 mm pixel size
8000 V/W responsivity with NEP=1 nW/(Hz)1/2
Demonstration of THz imaging:
https://www.youtube.com/watch?v=Qvn5fMVjFV0&feature=youtu.be