01.09.2022 | FLUKE: No fuss. Just savings.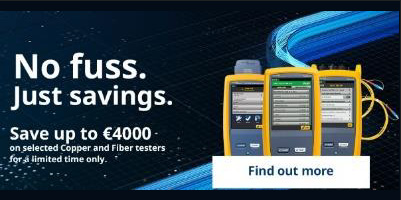 With this promotion you can start saving directly without registering or sending in old measurement devices.
Save up to 4000 € on selected copper and fiber testers now - for a limited time only! If you order a package that includes gold, we have even better deals for you.
It's never been easier to get a new tester at a bargain price!
DSX CableAnalyzer™ Series Copper Cable Certification Tools
Speed up every step in the copper certification process.
-> Modular Versiv™ design supports copper certification, fiber attenuation, OTDR measurement and fiber endface testing.
CertiFiber® Pro Optical Loss Test Set
For more efficient fiber optic certification.
-> Optical Loss Test Set with the fastest certification time: two fibers at two wavelengths in under three seconds.
Packages with Gold Support
Maximize tester productivity and avoid unplanned expenses.
Annual calibration with a loaner unit included.
Free repair with a loaner unit.
Accessories included with the instrument can be replaced at no charge.
Get a quote today.