02/02/2022 |  Laser 2000 appointed to industrial board for photonics program at Munich University of Applied Sciences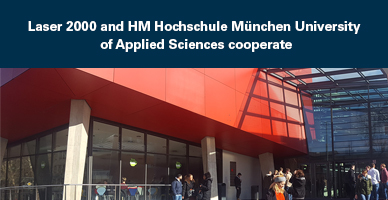 As a company dedicated to the broad spectrum of photonics, Laser 2000 is aware of the future role of the industry as well as the importance of education, development and research in this field. By joining the industrial advisory board of the photonics masters program of HM Hochschule München University of Applied Sciences, the company offers the university expertise from the field and can already provide support where the course of photonics is set for its future path.

For Laser 2000, this is an opportunity to support an important local teaching institution. On the other hand, the company benefits from the feedback of the young physicists and is thus close to the needs of research. In order to directly support both the practical teaching of the course and the research, Laser 2000 provides a substantial donation in kind right at the beginning of the cooperation. This grants new opportunities not only to the academic teaching and research laboratories, but also to the students.