12/02/2021 | Gift campaign with Fiber Optics partner VIAVI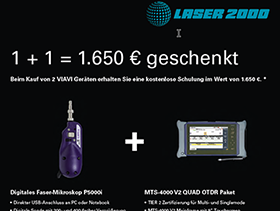 Just in time for Christmas we have initiated a great gift campaign together with our Fiber Optics partner VIAVI. If you buy a digital fiber microscope P5000i and the measurement solution MTS-4000 V2 QUAD ODTR package, we will give you the training "Modular Fiber Optic Workshop" with an equivalent value of 1650 €!

The fiber microscope is used to evaluate fiber optic connectors directly or through the couplings. The surface analysis already takes place in the video probe. In addition to direct connection to the MTS, the P5000i can also be connected to a PC or notebook via the USB interface and power is also supplied via the USB port. The microscope comes with free PC software for automatic analysis.
The Quad OTDR measurement solution is ideal for installers and service providers who are at home in the MM and SM environment and are looking for a compact solution for both technologies. The MTS-4000 V2 has a 9 touch screen and comes with an integrated power meter and visual fault locator.

For the comprehensive fiber optic workshop, the knowledge level of your employees will first be thoroughly analyzed and then the training, which is free of charge for you, will be tailored directly to these needs.
The promotion is valid until December 23, 2021. Simply request a quote at fiberopticsnetworks@laser2000.de.