ITW - Chemtronics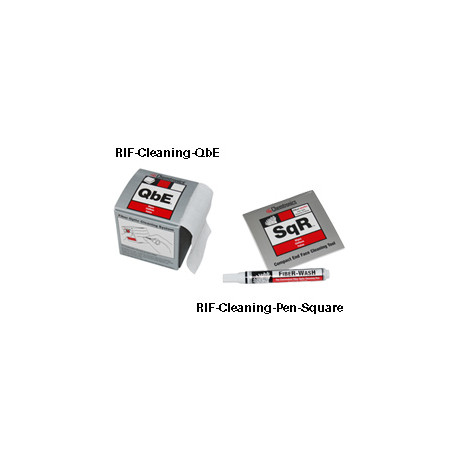  
Reference number: RIF-Steckerreinigung
Combined wet and dry cleaning solution for fiber optic connectors

Need more info?
Contact our expert.
Fiber Optics Team

Description
Combination Cleaning Process (CCp) -
Combination wet / dry cleaning

CCp is a unique cleaning technology developed by ITW Chemtronics for cleaning fiber optic connectors.

With conventional plug cleaning, you can achieve cleanliness in zones 1-3 (according to IEC / IEEE).
With the CCp you also reach the outer area (zone 4)
up to the vertical ferrule (zone 5). This prevents renewed contamination from the edge zones.

The CCp is easy to perform:
Place a sheet of QbE on the 'Fibersafe' cleaning surface
Apply a small amount of Electro-Wash PX to the cleaning sheet
Hold the face at a 90 ° angle
With light pressure, draw 3 times from the moist into the dry part of the cleaning blade
Check the workmanship with a microscope and repeat if necessary.

Ordering Information:
| | |
| --- | --- |
| Art.Nr. | Description |
| RIF-Cleaning-QbE | Cleaning cubes with Fibersafe cleaning surface |
| RIF-Cleaning-MX-Pen | Electro-Wash MX Pen |
| RIF-Cleaning-Pen-QbE | QbE + MX Pen |
| RIF-Cleaning-Pen-Square | Cleaning block+ Fiber Wash Pen |
| RIF-Cleaning-CCK-3 | Cleaning block + MX pen + 2.5mm cleaning sticks |


Other ITW Chemtronics products on request!